A fresh, unique pair of sneakers can really set you apart!
Since I've moved to Copenhagen, I am really enjoying the city and the easiness to cycle anywhere I want. I love it so much, I have even bought waterproof pants to cycle in the rain! So this illustration is inspired by cyclists of Copenhagen, who seem to transport anything and everything on their bikes.
It always starts with me listening carefully to Your idea…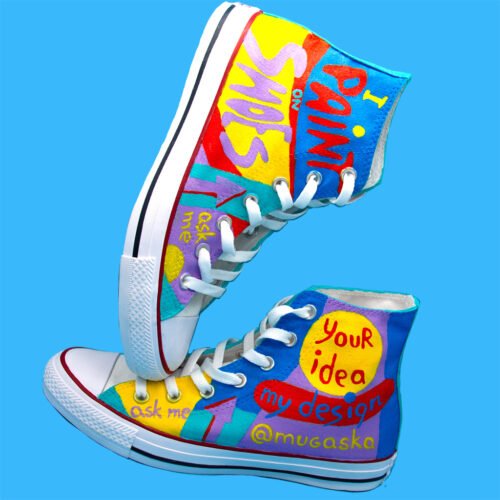 Wait a minute! Can I wear them in rain?
Yes! You can even jump in puddles and then wash them in a washing machine!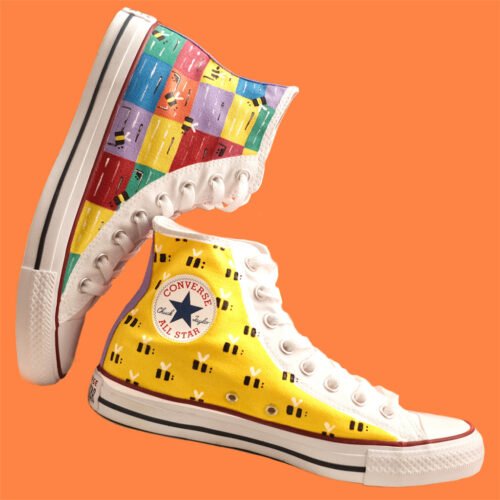 Plant flowers, buy fair honey and bee happy.
This pair was inspired by colourful beehives in Slovenia's Julian Alps.
As a matter of fact, this pair are now in Slovenia, worn by a local, who was lucky to find them before others did.
Who doesn't love rainbows?? 
Well, where I come from, I could point out a few who don't…
Rainbow Dog appreciates diversity and allows other to live their life the way that makes them happy.⁠
Idea inspired by lack of tolerance for the LGBT+ movement.
The colourful rainbow vibe of the sleeping fox is the perfect pair…not just for a holiday.
Let it brighten your day, every day!
Personalised gift for a birthday. All ideas come from the girlfriend of this very lucky catamaran's sailor. I just brought the idea to life in the form of these shoes!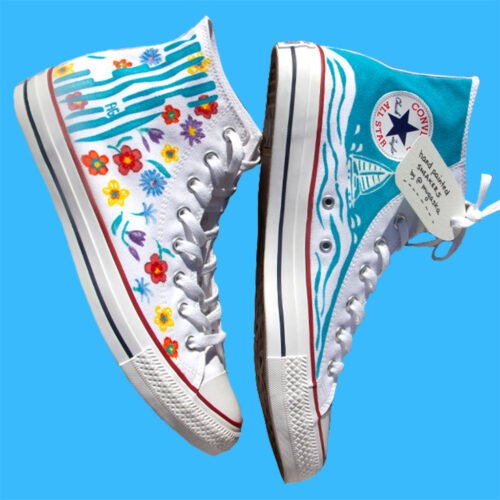 Interesting variation of several famous artists together on one pair of sneakers.
Monkey from Banksy is wearing Picasso's top and paints a rainbow on Mona Lisa.
Looking for an unique gift?
Ready to order for someone special? Get in contact with me to talk designs!
Imagine cosy evenings at home. Deep in your book on a warm comfortable armchair, with your cars fast asleep on the bookshelves.
This crazy fun financial shoes were created for one of my digital art customers. The project was designed based on an illustration I created for them in a previous project!
What you see on the shoes is only a small part of the original artwork, which contains over 100 tiny drawings of peopleand is part of the 'Where is Hardo' book.
Outdoorsy spring vibe for those who love nature. Lay on the meadow and look and listen closely. There is so much life in the shade of grass and flowers.
Strong sun, colourful flowers, delicious food, great wine and loud cicadas. That's a summary of a summer in Croatia.
Shoes for a special occasion?
Ready to order for someone special? Get in contact with me to talk designs!
The first ever pair of Converse I painted. 
It was spring 2020, corona lockdown and I was looking for new ways to make art. 
On top of that, my family was getting ready for move from Warsaw to Copenhagen.
I noticed that Warsaw and Copenhagen both have statues of Mermaids, which became a symbol of these cities.
So here is the Mermaid of Warsaw getting ready for the new adventure and jumping to water to visit her Copenhagen colleague.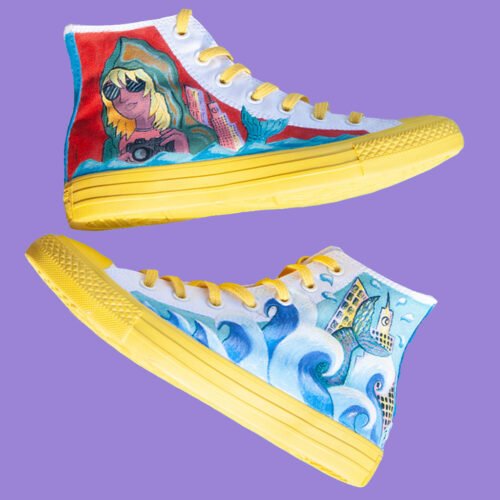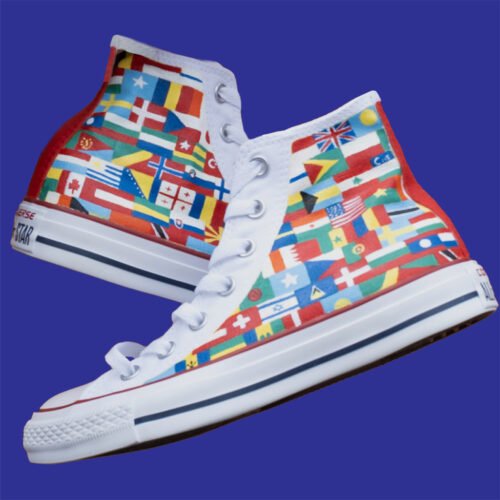 Requested for a special occasion, these shoes became part of the graduation outfit! How cool is that!!
Not everyone likes bold colours and I am ok with that.
Subtle design on a grey pair of sneakers. Perfect for a summer evening on a beach holiday.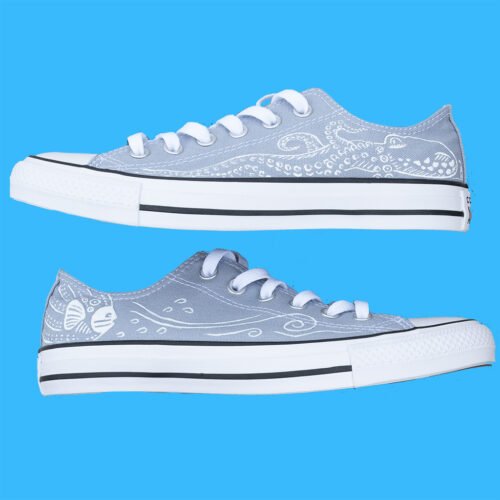 Cat Delivery in Copenhagen
She loves cycling around Copenhagen with her cat in the flowery basket.
Special request from Kamala Harris' fan.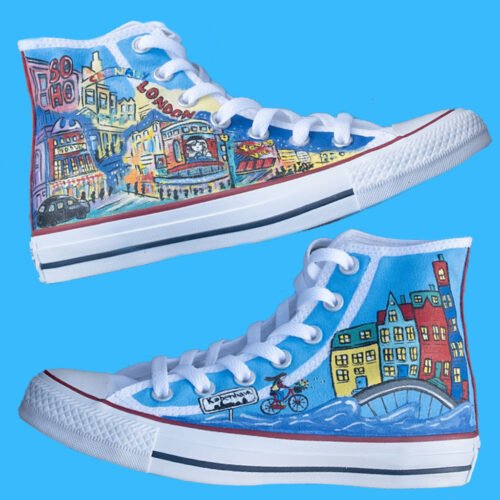 From London to Copenhagen
A gift for a special someone to celebrate a new chapter in their life.
On one shoe, favourite districts of London, which reflect the busy, vibrant city with one of the greatest theatres in the world.
On the other, the start of new adventure in the green city Copenhagen with all the cycling and water sports plus famous buildings in Nyhavn.