Once upon a time, when I was a youngster, I just loved to draw…✏️
I remembered I loved to copy comic stories from Donald bubble gum. It was long before Disney cartoons were shown on Polish TV.
And then there was my diary! Documenting my adventures was realny fun! Later I gave a few of my diaries to my grandma. She is 87 now and still reads them from time to time. It helps her travel back to the times when me and my brother were spending summer holidays at her house. She often says 'Asiu, I always wonder, how is it possible that you were always drawing and never got bored of it´😃
As I grew older, life got a hold of me. I got busy with school and believe me … Polish school takes a lot of energy from kids…When it came to deciding about further steps, I didn't follow my passion. I was pretty awesome at math so I chose to develop towards a finance career🔢
It was the late 90's, in Poland, freshly after communism. Back then it was the 'sensible' choice.
At the very start of Uni, I felt that I wasn't the right fit for this path🙄 I didn't share the interest of others in aiming towards a great career in finance…  So I started to spend more and more time drawing🎨⁠ I would often skip the whole day at Uni, to stay at home and draw with pastels. I could easily spend 6-8 hrs attached to my drawing and not stop until it was finished. It just felt right😊 My room quickly filled up with pictures.
My drawing phase lasted one full year. Then I got busy with student life.. friends, boyfriends, parties😁At some point I discovered traditional photography. We spent our summers in the USA, working in a printing factory and then traveling all around. This is where I bought and learned to use my first manual camera📷 I learned a lot about composition and capturing the moment.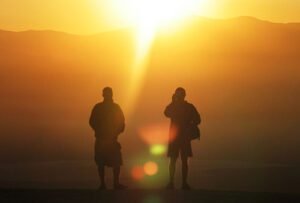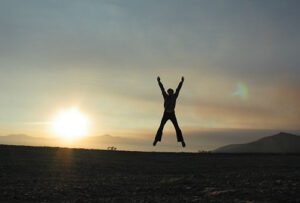 After graduation I worked in finance, leasing trucks and cars. I liked the challenge and corporate life. I've never thought of this time as wasted. In a way my finance experience is my safety cushion. But most importantly, this is where I met the love of my life and developed a few very good friendships🥰⁠
Corpo routine was fine, until I started to feel itchy. It was like wearing uncomfortable clothes. At the same time I was a young mum focused on showing the world to my kids. I got back to maintaining a holiday diary and documenting our adventures with comics and illustrations. My kids just loved it! To this day, they often draw with me and they are both rocking at creativity. My kids are the reason why  I started to dream about becoming a children's book illustrator❤️💚💛⁠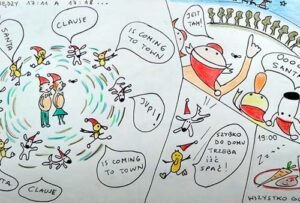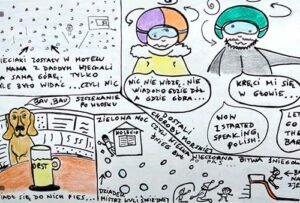 It was 2016, when after 12 years in corpo, my husband asked if I wanted to take a break in finance and see what happens. 
So I did and I never came back … 
I started with illustrating a charity book for children, but then I detoured drawing comics for an IT start-up and illustrations for bankers, consultants and book writers until finally I landed where I am now.
Today I am writing this post, as I feel a bit overwhelmed at times. I can tell that I've never been so happy at doing what I do now. ⁠
However I've never felt so fragile neither.⁠
It can be so rewarding and so tough at the same time…⁠
I have to work hard to build solid ground for myself and stop hearing the inner voice saying 'well… maybe it's time to go back to finance…'
Sooooo….in the end of the day, I am still just an accountant on the run who paints on stuff.🏃‍♀️🎨⁠