Could you imagine bees biking around Copenhagen, going to the office in the morning? Could you imagine bees hanging out with their bee friends at the doorsteps with a can of Honey Beer while posing for selfies on Instagram? Well, Natalya and I tried to visualise these imaginations and turned them into buzzy animations!
Natalya Tarankova is an analog photographer and multidisciplinary artist. We are both part of Art Collective in Art Escape Studio. What I find very interesting in her style, is that she always experiments and explores various techniques. In fact our collaboration was also an exploration.
It happened to be part of Natalya's solo exhbition 'Bikes and Roses', which was at Art Escape Studio in October 2022. The idea of the exhibition was to show alternative purpose of photography, which is the art of essentially experimenting with Photography and breaking the rules, so to speak. 
There was a vast selection of photos printed with various techniques, with a lot of interesting effects. On top of that there were photos with embroidery (collaboration with Dyveke Noack), decorated by a weaver (Sandra Gruescu) and adjusted with digital illustrations (Jessica Lai). 
Lastly there were my animations of bees with Natalya's photos as a background. It's important to mention that all the photos are analogs. This way we combined old with new, traditional photography and animation. Additionally we created an Instagram account @bees_and_the_city and a series of NFT's. We both care about nature and the whole idea is based on spreading the word about importance of bees in our lives.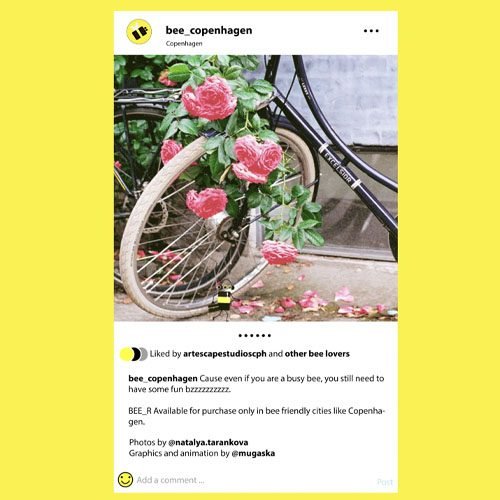 You can see below what came out of our collaboration. It's a static view, so if you want the bees to come alive, click here to see the animations.
As I mentioned before @bees_and_the_city is a real instagram account and you are welcome to follow. Hopefully, if time allows, there will be further adventures of bees in the future.