"Your flight is cancelled" – said the airport voice…. This is how I almost didn't get to exhibition in Vilnius. But let's start from the beginning….
WISE – Woman, Inspired, Successful, Entrepreneur. This was the title of a course I joined earlier this year. I am definitely a woman enterpreneur and most of the time I feel inspired. All I needed was to become successful … Well what is a success really? I don't know…maybe take part in the first ever female exhibition of NFT's in Lithuania? I guess that could do for now 😉
The project #WISE serves the creative and artistic women who have been thinking about their practice as a self-employment opportunity. It was run in Denmark, Greece, Lithuania, Italy and Iceland. 
What I loved about this course, was being a part of a students group again. As I have a finance background, I was experiencing studying with other artists for the first time in my life – such a cool bunch of 10 creative ladies from various creative fields (art, crafts, jewerly, photography…).
We met once a week for a few months, to either have a lecture or a field trip. The general idea of the course was to touch important aspects of being an artist entrepreneur and get inspired to develop this knowledge further by oneself. Our final project was to create an NFT in order to keep up with new challenges of the changing world. 
Not everyone was keen on going into the metaverse but I took my chance. For me it was an opportunity to show my kids, that mama is not a tech dinosaur yet 😉 It was worth it! I got an invitation to the NFT exhibition in Vilnius, which was finalising the course.
Family matters didn't allow me for a longer trip and I had only 20 hrs in total.. My travel buddies Jessica Lai and Diana Media Mogensen were staying a day or so longer. Jessica is an illustrator, who also created an NFT and Diana is managing the Wise Project on the Danish side.
What starts bad, ends well and this is exactly what happened on our trip. First our flight got canceled, then we spent a few hours wandering around the airport from desk to desk. We were trying to get a new booking and get our luggage back. Just imagine that somebody already packed it on another flight, which was getting to Vilnius 5 hours after the exhibition (!)  yeah, things got really messy…
Dadadi dadada…. we manage to get our luggage back and exchange our tickets for an evening flight. This seriously required a celebration and we end up buying 3 personalised lego minifigures … Looking from the left: Jessica, me and Diana. At the end of the day, we are also mums, whose kids love lego, you see 😉 We get to Vilnius just before midnight. Just enough to get a power sleep before tomorrow… so excited!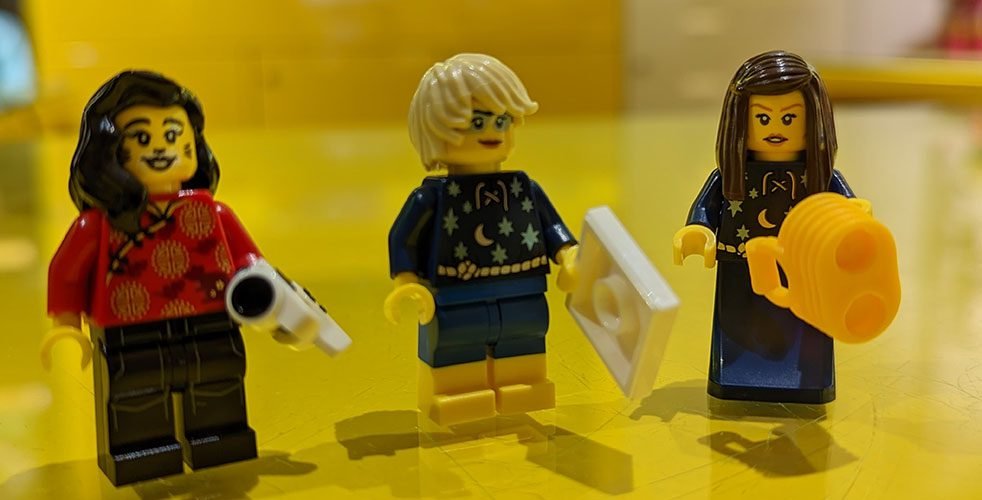 Vilnius turned out to be a wonderful city with tiny streets and loads of art galleries. Before the exhbition, we managed to have some fun in the Museum of Illusion and meet artists from other countries for dinner. Nice bunch of creatives. Such a shame, I wasn't going to stay for the evening with them.
Finally we get to Dailininkų sąjungos galerija  for an exhibition. This is where my clock starts ticking. I have two hours left and I need to run to the airport to catch my flight home. On the welcome, there are a few presentations summarising Wise. When it comes to look at NFTs, I get 20 minutes left to abort the place….  I manage to present my NFT and look at work created by others while getting a taxi.
I don't want to leave yet! On the way to the airport I am developing a serious FOMO 😉
You can see below, that the works are varied, traditional and digital art plus my short animation. Overall really interesting. I get to photograph all the labels and read the story about each work on my way home…
Towards the end, I would like to thank Diana. If it wasn't for her desire to deliver free education possibilities to other woman, I wouldn't probably even create an NFT. Diana's company  We Are Enterpreneurs, aspire to help entrepreneurs reach for their dreams by providing them with individual or group coaching and it's all for free and supported by financing from different organisations. For instance the Wise program was financed by Erasmus+program of the European Commission.
Oh, and Jessica thanks for jumping on the NFT train with me! It was so much nicer to experience it with an artist friend. 
Read about my trip to meta verse