Do you also enjoy looking at the mountains while going up with the ski lift? Of course, sometimes it's boring and often super cold… but you know what? I do love it! 🙂
So somewhere in the middle of Triglav National Park in Slovenia, I was going up and down the same boring blue slope… teaching my kids to ski, you see;-) However looking at the same views turned out to be very inspiring.
This is where for the first time, I spotted a mountain that looked like a sleeping giant and that's how I started putting this idea into use.
My first sketches are from 2018 and 2019. The one on the left shows the original shape of the mountain that inspired me. However later on, mountains in my head started to resemble humans.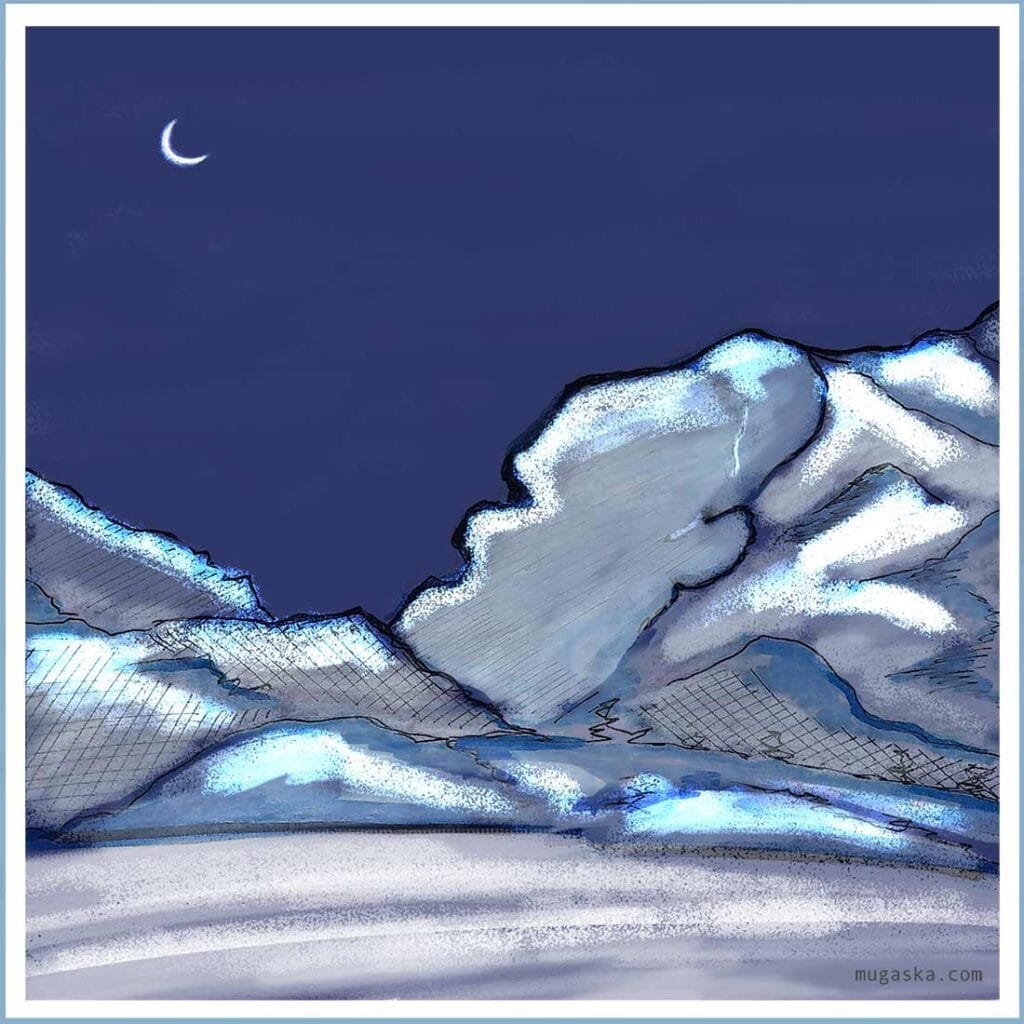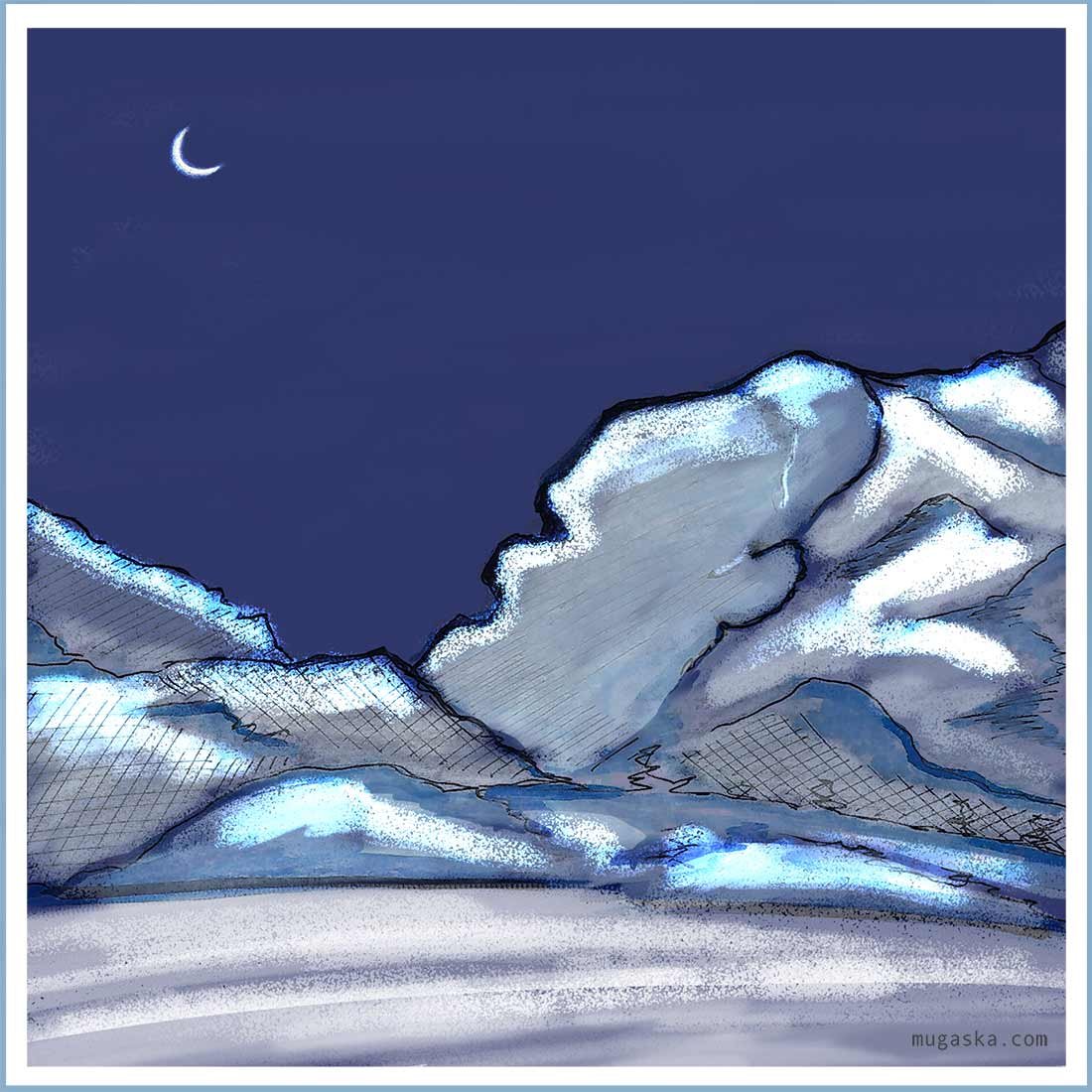 The next year we went skiing somewhere else but I didn't forget the giant. The idea got even stronger during lockdown… especially when we moved into Denmark…beautiful yes, but flat like a frying pan. As much as I love the sea, I am more of a mountain person. Sooooooo at that point, I was really missing my favourite mountains.
Finally I started elaborating on a bit more advanced idea. To refine it I used help of friendly artists from svs forum. They advised me how to organise my composition and pushed me to make the sketch more interesting and dynamic. I was super happy with the outcome and I promised myself to visit this forum more often.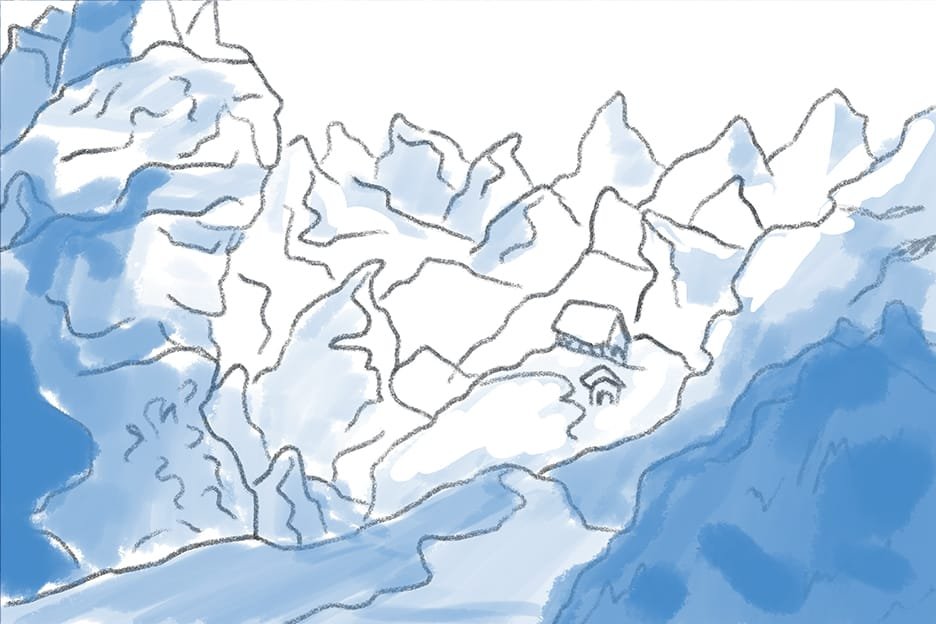 This time I was going to paint it on wood with acrylics. For that I needed a wooden canvas. Why not build it yourself? 😉
So I went to a local DYI store and asked them to cut out a big piece of board for me. Then I added a few clippers, strong glue and a few panels for the back of the canvas to my shopping list. These panels make canvas look thicker plus it gives you different options for attaching it to the wall.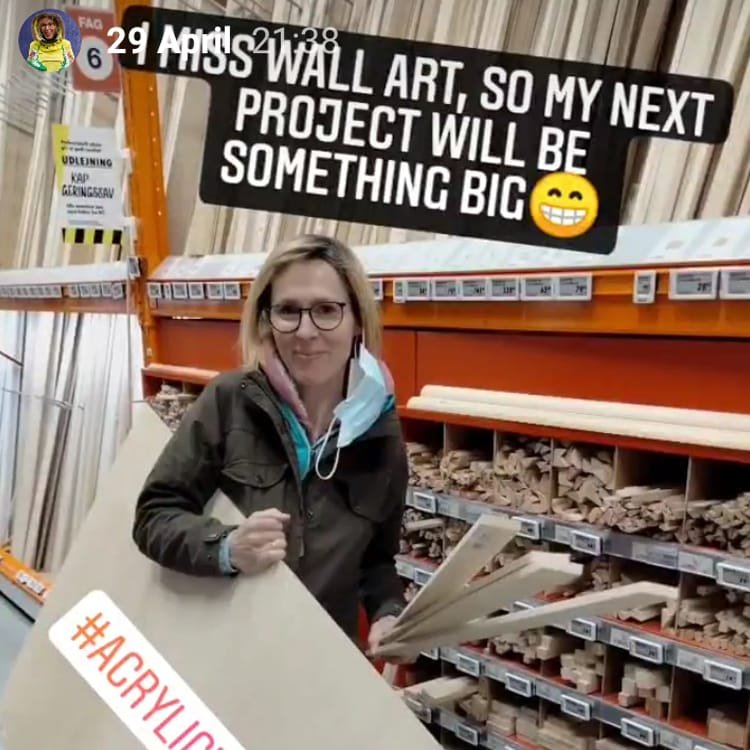 I painted a few murals before, so I had experience with bigger surfaces. However it was the first time I used proper artist paints and not wall paints like before. I was a bit worried of failing and wasting loads of expensive acrylic paints. So I started shy and slow….but then things suddenly sped up and I vigorously finished within 1 week.
Next step – photo session. Denmark seaside, middle of June, mega windy (I mean, look at my hair!). So I had to hold the canvas firmly trying not to fly away with it ha ha
Time to prepare the painting for making art prints! Well that wasn't easy…120 cm long and 80 cm wide….the painting was obviously too big to scan, so it needed to be photographed. It took some work in photoshop to get it looking like the original 🙂
Now, all that was needed to be done, was hanging it on the wall without hammer and nails…. unfortunately this is the strict rule of rented apartment… So the best choice was Velcro heavy duty stickers. Aaaaand it's on! 😄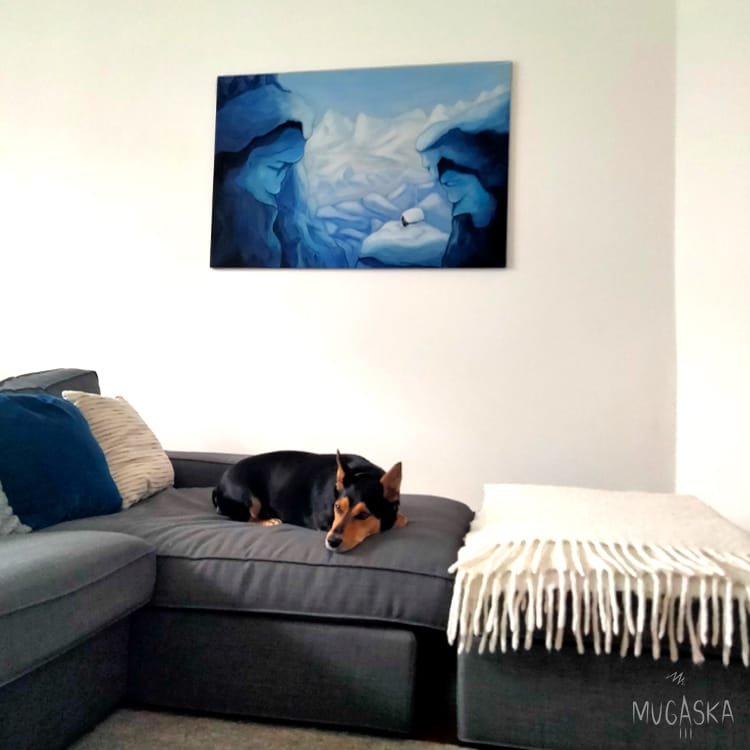 Thanks for checking my blog! 🙂 If you are interested in what I do day to day, follow me on instagram at @mugaska
---
And time for the special credit… – thanks Muggy for pushing me to try traditional painting, helping me to build the canvas, being my go to photographer and generally being the best 🥰