Wondering in the mountains with my family and our dog, is my absolute favourite thing to do. Imagine its a sunny day, in the middle of summer and you are on a meadow surrounded by beautiful mountains. You decide to rest on a grass, in the shade of the mountain and fall asleep. When the sun is moving, it slowly comes out of the mountain and puts a warm light on your face. "Wake up, it's time to continue your adventure!" – it says 😉
After spending 3 weeks around Soca Valley in my beloved Julian Alps, I had so many drawings in my sketchbook, that it was just a matter of time when I was going to paint my summer mountains. 
Mixing ideas from sketchbooks in Photoshop, I came up with my first draft. Maybe it's not the most romantic artistic process, but I like designing my paintings in Photoshop. This way I can decide on colours and shapes with more confidence. At the end of the day, it's enough to press Ctrl+Z to erase my unwanted mistakes and buckets of acrylic paints are saved 😉
Mmmme…the first draft turned out borring. In fact I kept coming back to it during the next few weeks and I couldn't get it right. The feeling I get when I am in my favourite mountains wasn't there. I was ready to dump this project…but instead I put it on hold. 
When I came back to it after a break, I got rid of the mountain hut  and painted a guy with giant nose instead. If you look close, the white mountain in the background, has a sharp point, which looks like a nose (it does to me, anyway!). In fact, it's a real mountain called KRN and it's characteristic 'nose' is recognisable from far away. At that time I didn't know that I painted a mountain troll…
When I was working on my painting in Art Escape Studio in Copenhagen, our favourite customer came to the cafe. Looking at my painting, he told me he does believe in trolls. This is what made me realise that I painted one of them. Trolls are a big part of Nordic heritage and I guess I took one of them into my Slovenian story. Immediately I knew what was going to be the name for my painting.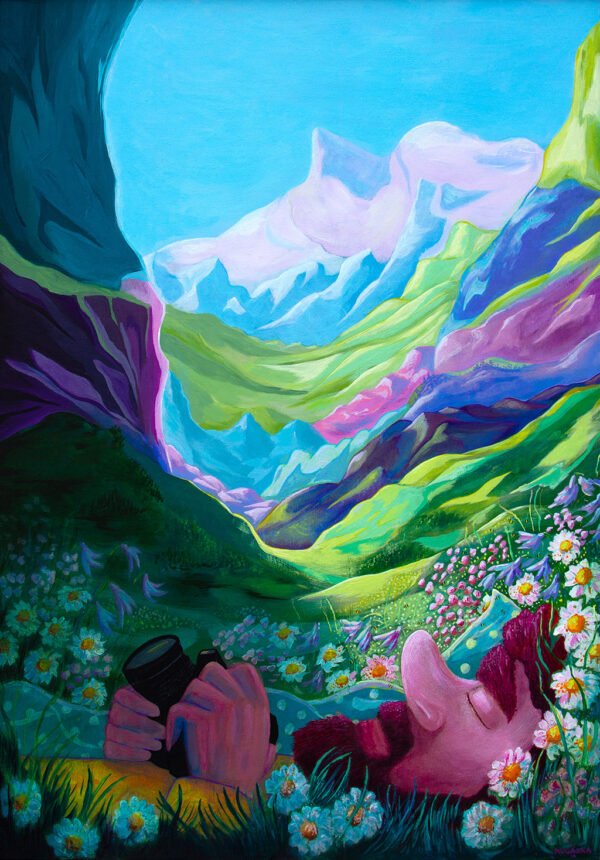 Looking back, I can say that it wasn't t an easy painting. It took me weeks to decide on a draft and even longer to squeeze out the feeling one gets on a sunny day in the mountains onto the canvas. However in a way this painting saved me from some gloomy times. I painted most of it locked at home with my whole family having Covid. Painting colourful sunny mountains was a great escape.
And a side benefit of being stuck at home together – I had a new painting buddy! My younger son was spending days with me in my one studio, creating painting after painting next to me. My studio is super tiny and we had a horrible mess, but at the end of the day I have a great memory of that time. I love getting creative with my kids. Now when they are teenagers, it's a rare opportunity, so I cherish it even more 🙂
To watch the process video of Mountain Troll
To order your limited edition art print