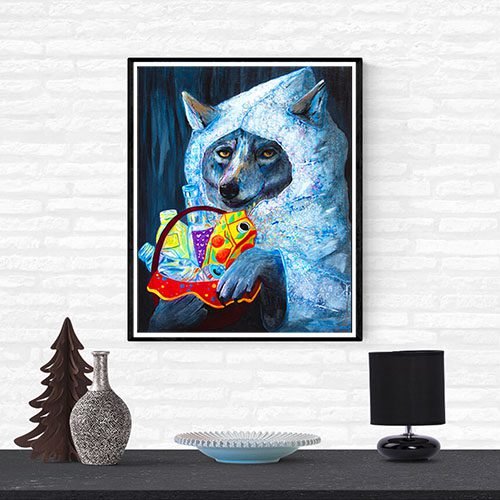 size 40x50cm
high quality archival art paper White Velvet 270 gsm
edition number and original signature
available on backorder
estimated delivery time 2-4 week
7% of proceeds from the sale will be donated to polskiwilk.org.pl
'Don't go by yourself to the forest, or you might get eaten by a wolf!' – well isn't that one of the childhood myths? I'm not sure we should be so scared of them as Wolves should be of us
The reality is that Wolves are the guardians of the forests.  They ensure a healthy population of wildlife so plants and the surroundings can flourish together.  Contrary to the popular story, they are shy and certainly don't eat people!
What can we do to help them?  For a start, spread a good word about wolves to others. Also let's not mess up their homes with old furniture and other kinds of leftovers. If you are on a walk, help them by cleaning and picking up trash. 
Fun facts about wolves:
Wolves are animals who are very similar to our pet companions, dogs. 
Afterall they both descend from the same ancestors and they actually share over 98% of the same DNA. 
Wolves are hunters and they usually go around in packs ranging from as low as 2 to even 30 wolves. They are fast runners (up to 60 kilometers per hour) and surprisingly good swimmers (up to eight miles). 

Wolves mate for life. Wolf packs have a social hierarchy and form around an

"alpha" pair of wolves

who mate and breed.